I wouldn't say I was a Playstation fan boy as such, but I did not give a crap about Xbox and MS since around 2013. I missed the entirety of Xbox One and some late 360 stuff. But now in 2018 I have an Xbox One and am ready to 'Jump In'
The Xbox One has had a rough time this generation, the exclusives are few and far between and the sales numbers for the unit are low compared to it's predecessor. The One X hopes to inject new life in to the Xbox family in the future but this is after some serious Kinect integration confusion, some game sharing confusion and going up against a cheaper but more powerful competition. That's all in the past though, the Xbox One is four years old this year and more affordable than ever.
Looking ahead, the Xbox One (or One X if you're feeling rich) might seem like a pretty hard sell. If you look back however, there is quite the collection of exclusives on the system. You can grab the console for less than £150, and the free services means you won't have to buy a game for at least a month as MS will just drop over 100 titles on you for nothing.
If you are a Playstation owner thinking of getting on board with the Xbox to try some of those elusive exclusives, now is the time.
If you aren't comparing the Xbox One to the PS4, one of the first things that pop out about the system is that it is very speedy. Start up to playing a game must be around 7 or 8 seconds, and zipping around the dashboard or in and out of applications is lightning fast. The UI itself is actually pretty crap, I feel like I am using 10% of it and missing most of what it can offer by sticking exclusively to the store and my games library. It doesn't really offer an incentive to check out the other features though, as it is pretty hard to navigate it doesn't feel worth the effort when I've sat down to just play a game.
The controller itself is super comfortable but not that surprising after the Xbox 360. I've had the Xbox for around 2 weeks and it is my main games console at the moment, I've had to swap the two double-A batteries once.
The main differences between the Xbox One and PS4 are the libraries and suite of services. While the PS4 has a nice healthy line up of exclusives and releases coming in 2018, the Xbox has a pretty nice bunch of exclusives behind it. I went in assuming these games were going to feel incredibly dated but this isn't the case (mostly). Not only that; the Xbox One allows the user to customise their online services package, for a price of course.
Exclusive Games:
The Xbox One has been out for 4 years and has built up a pretty good list of exclusives outside of the Gears/Halo franchises. I missed out on some cool titles without really even realising, however it isn't all good.
The Good:
Dark Dreams Don't Die (D4)
If you like games like Life is Strange or Heavy Rain, you should give D4 a try. The game puts you in the shoes of David Young, a Private Investigator who is trying to discover the who's/what/where's and why's of his wifes murder. Her final words "Look for D" put him on the trail for anyone and anything that starts with the letter D to aid in his investigation and his ability to 'dive' let's you explore a variety of locations from Young's bathroom via some sort of telepathy.
While the gameplay is similar to other narrative driven games, the actual scenarios our hero goes through are quite mental. The opening stage places you on an aeroplane with a US Marshal, a drug trafficker, a fashion designer, a serious pessimist, a literal giant and an absolutely stacked flight attendant who is addicted to sucking back on his inhaler. The games presentation is a little rough around the edges but completely off the wall charm like this can't be found anywhere else. It is the antithesis of Halo and Gears of War and the most surprising exclusive on this list.
Cuphead
The first game from Studio MDHR is great and like D4, a lifetime exclusive to the Xbox family of consoles. Cuphead is inspired by cartoons from the 1930's as well as hardcore run-n-gun games like Contra and Gunstar Heroes. While you can see from the visuals that the game is a treat to look at, the controls and the music are also of a very high quality.
This game took over the internet in late 2017, so you know what you're getting in to. If you don't however, check out the video above and prepare to have your eyes melt.
Dead Rising 3
I can't say I was surprised at how much I am enjoying this as I've spent serious amounts of time with Dead Rising 1, 2, Off the Record and 4 (PS4 version). This game is slightly more gritty and realistic than the other neon soaked, over the top games in the series for better or worse. Personally, I am enjoying the bleaker atmosphere and a main character who isn't having the time of his life during the zombie apocalypse.
The supporting cast are also excellent, with each survivors voice actor doing a great job. I am starting to care about the rag tag crew of mechanics who are at the centre of the games plot, unlike Dead Rising 4. DR4 must have the most obnoxious and poorly written characters this generation.
Mechanically however this game does feel a bit dated, especially post DR4 (I finished it 24 hours prior to starting 3). The map is pretty hard to read, the weapons and crafting systems are very clumsy and our main man Nick handles like an absolute dog. If you're familiar with DR1/2 you will be right at home here, but 4 brought some nice quality of life improvements.
With Microsoft Studio's name appearing during the title sequence, I don't think this will be hitting PS platforms anytime soon.
Quantum Break/Ryse/Sunset Overdrive
I've lumped these together as I haven't actually played them yet but I do have them. There is not much I can say on these other than they are lesser known exclusives to the Xbox platform. Quantum Break is third person shooter about time manipulation from Remedy (Max Payne 1/2). Ryse is a man stabbing simulator from Crytek, it looks nice. Finally Sunset Overdrive is a crazy, off the wall third person shoot-em-up where you blast humans infected by their energy drink addiction.
The Bad:
Player Unknowns Battlegrounds (Holy shit)
If you have an Xbox One and are going to buy PUBG, don't.
The hit PC sensation PUBG has come to Xbox exclusively and it shouldn't have. It shouldn't be available on console at all. The games icon has "Game Preview" stamped over it, the splash screen says the game is in development but both of those warnings were not enough to prepare for how poor the game is. I can usually see through bad frame rates or graphics if the game is fun but holy fucking shit, this game is absolutely terrible.
When you jump in to a game it takes around 3 minutes (no joke) to load the assets/textures and don't even worry about interior lighting because there isn't any. The game runs at about 15 frames consistently when entering a new area, which is every 10 seconds if you're driving a car or even sprinting somewhere. Traversing the map is a huge part of the game and it makes the game crawl along at an unplayable frame rate. Not only that but the game crashes to the home screen a lot.
An actual scenario I was in when playing consisted of driving across an untextured bridge at around 10 fps, being unable to zig zag my motorbike to avoid sniper fire as the game was too unresponsive followed by trying to jump off the bike behind a hill but instead having the game crash and quit to dashboard. You do get the option to rejoin the same match if it unexpectedly quits, but doing so dropped me in front of a car resulting in instant death.
Avoid this game.
Memberships:
The Xbox One has quite a few memberships to offer it's players; all bringing different features and catalogues.
The Good:
Xbox Game Pass
Xbox Game Pass is the best kept secret on the platform and I have no idea why MS isn't putting this all over their promotional material. You pay £8 a month and you have access to 100 games, which swap monthly in batches of around 5. Not only this but you get a heads up when something is going to leave the service and if it does, you get a discount if you want to buy it to keep. Sweet.
Both Dead Rising 3 and Dark Dreams Don't Die mentioned above are available on the service at the moment. The service also features high profile games (all the Gears of War titles and Halo 5 are available) as well as Xbox 360 games too.
All this and it is free for two weeks? Get in.
You can find a full list of titles available to you here.
Xbox Live
Xbox Live is very similar to PS+, you get 4 games a month (2 XO titles, 2 X360 titles) which vary from indies to retail games. The service works well and it is free for a month. Not much more to add to that. The service is 16 years old and apart from the new Play Anywhere stuff (let's you play some of your Xbox games on your PC) it appears to have remained mostly unchanged, but it's always been good.
If you sign up with a standard account, you can get a free month of Live through your Xbox One dashboard. Simply click the drop down box when choosing a duration to find 'One Month Free'.
EA Access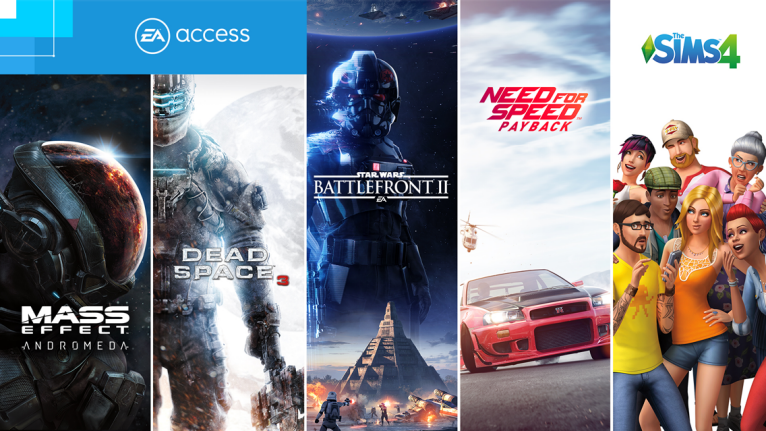 EA Access is a lot like Game Pass but for EA published games. The service boasts 50+ games in it's instant library as well as getting exclusive betas and trials for games which aren't out yet. At £4 a month it is a bit of a steal, especially considering titles like Titanfall 2 and Battlefield One are available on there right away. Users also get a 10% discount on EA games they want to buy to keep.
I'm not really in to EA, but if this was every Capcom game for £4 a month I'd be all over it.
The 'ok I guess':
Mixer
I have literally no idea what Mixer is, despite it taking up an entire tab on the Xbox One's five tab dashboard. A bit of research tells me that it's like Twitch, but belongs to MS, and it's main feature is that the streaming is lagless. Ok I guess. Whatever.
---
So if you got some Christmas money knocking about burning a hole in your pocket you can do a lot worse than an Xbox One and a controller. Your internet connection/MS will provide newer titles for you and backwards compatibility means you can grab X360 games for £1 each at pre-owned stores. It's mostly good in the world of Xbox One, especially if you're a new user.
Become a Patron!