The final votes are cast in the Last Life Club Game of the Year 2017 Award.
2017 was an insane year for games, some would say the best ever. I managed to nail down my GOTY pretty early on (my original draft was November 3rd) meaning a couple of games I got later in the year didn't get a look in. Here is my top 5 games of 2017 with a couple of cheeky mentions afterwards.
Also shout outs to everyone who comes to the site and downloads our show, our growth over 2017 has been humbling.
5. Puyo Puyo Tetris (PS4)
If you like puzzle games or fighting games (yeah) then check out Puyo Puyo Tetris for the PS4 or the Switch. It's a fast paced vs puzzle game where playing online or with up to 3 other players locally is a total blast.
It is very easy to pick up and play, anyone watching can instantly understand what is going on and the presentation is super polished. There is a very addictive, sugary quality to this title and once you get the hang of it, it is difficult to put it down. I was playing Swap Mode every night for weeks.
 Puyo Puyo Tetris will continue to be played for years to come, even if I have to migrate over to the Switch version.
4. Resident Evil 7 (PS4)
Im a massive Resident Evil fan and at the start of the year when this was released, I was expecting it to end up a lot higher on the list. All of the Resident Evil games (except 7) are in constant rotation and I easily have over 200 hours on most and over 400 on others.
The game really shines in it's intricate story mode with the puzzles and locked doors interwoven nicely with each other to create a location which starts as an overwhelming maze but I know now like the back of my hand. The Texas Chainsaw inspired Baker family are a great set of villains and a welcome departure from the campy/goofy villains we usually see in the RE series.
However, I haven't returned to RE7 after beating all the DLC modes a single time, there is no quick pick up and play mode (like Mercenaries in previous titles). While Ethan Must Die mode is quick to finish, it took me around 8 hours to actually see the end of a 20 minute run thanks to the insane difficulty. While I throughly enjoyed my time with the game, this will be the first Resident Evil game I don't see myself returning to. The mid-December DLC did little to change this too, but certainly offers a fun couple of hours.
You can read my Resident Evil 7 review here.
3. Uncharted: The Lost Legacy (PS4)
Uncharted: The Lost Legacy is an absolute banger of a game. If it wasn't for Nintendo's strong output this year UCLL would absolutely be at the top. When I first saw coverage of the game I cringed at the idea of the "Open World" but luckily for me, it was just a slightly wider then normal area with just 3 main objectives for you to choose from.
Uncharted is known for its tightly scripted action sequences which aren't something that translate well to true open world games, and UCLL brings the action in spades. Being just the right length to not need any real downtime, the pace borderlines on relentless while balancing shooting and puzzle solving immaculately.
If you have an afternoon to fill you could do a lot worse then running through UCLL with its great characters and locations. It's like being on holiday.
You can see my Uncharted: The Lost Legacy review here.
2. Mario Odyssey (Switch)
You know what it is, Mario Odyssey is sublime. While the game initially rushes you through it's collection of Kingdoms it eventually opens up to more content then you could ever hope to beat and all of it is good.
This game has literally no stinkers in it's collection of objectives, not once did I think an objective was badly thought out or lazy on the developers part. I am still finding new areas, characters and enemies well after the credits have rolled and I can't see myself putting down Mario Odyssey anytime soon.
While it doesn't knock Mario Galaxy off of the top spot of best ever Mario game, it is the closest it can be.
1. The Legend of Zelda: Breath of the Wild (Wii U)
I initially played BotW on the Wii U and the game clearly had a few problems in the performance department, but it was so good I didn't care at all. In fact the frequent frame drops were an incredibly minor mark on my experience with the game as the moment-to-moment gameplay, environments and objectives are just that good. 
I wasn't super in to the game (or the series) prior to its release, it was actually my girlfriend that bought it. But it sucks you in. The freedom the game offers the player is incredibly satisfying, the environment is huge and absolutely packed with stuff to do. Allowing the player to drop multiple markers and the world refreshing every 4 in-game days means it never becomes overwhelming and you never miss anything, a small change that a lot of open world games could learn from.
I'm playing now on Switch and while its nice to have sharper graphics and a solid frame rate, the Wii U version tops my personal list.
---
Honorable Mentions
Cuphead
Just before Christmas I was gifted an Xbox One so I've had the opportunity to give Cuphead a spin. I haven't finished the double hard bastard yet (just over half way) but I can say yes, this game is amazing. First and foremost the game looks stunning, a single glance at a screenshot or 1 second of video would tell you that much, but the gameplay itself is also ridiculously tight and the music is as good as the visuals.
The controls are super snappy, the boss fights are very creative and the run-n-gun sections are just the right difficulty. Throw in some very light side questing and customisation (as well as a couple of cheeky Street Fighter references) and you got yourself a GOTY contender… well you would have if I had played it prior to final voting day. Oops.
ARMS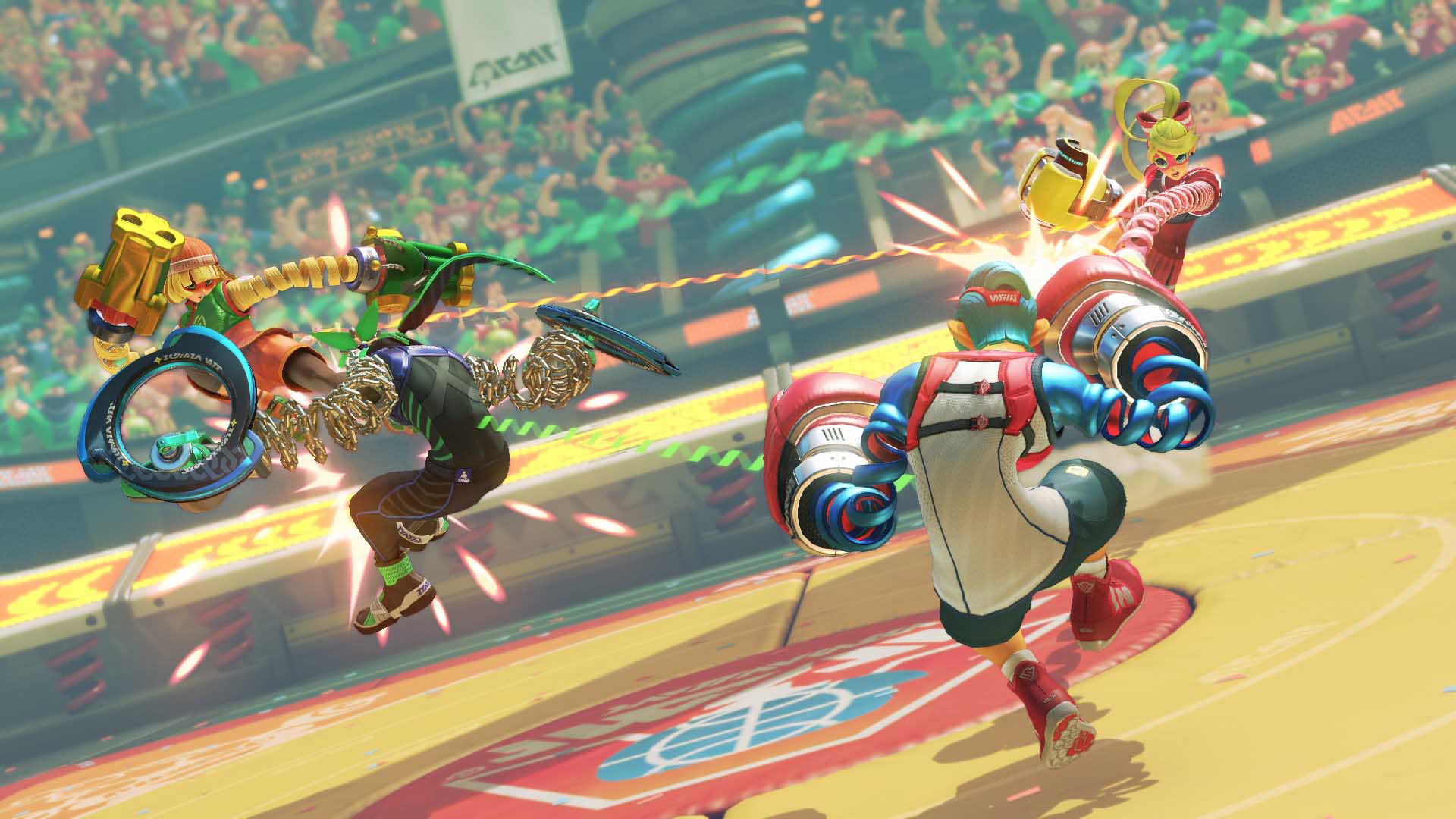 ARMS is a bit of an odd proposition, a focused 2D fighting game that reveals it's simplicity and it's complexity within 5 minutes of actually playing the game. The beauty of ARMS is anyone can play; the game primarily uses 6 buttons (two of which are punch) and the rock, paper, scissors combat makes the game basically as difficult as your opponent is smart.
Getting people to actually pick up the controller and play the game however has proved difficult, probably harder than any other Switch game. The idea of 1 v 1 fighters are incredibly intimidating, especially those with complex inputs and mechanics. ARMS however simplifies all this in a way that only Nintendo seem to know how but to the casual eye, the game is still a mess of attacks and UI elements.
I've had a lot of fun with this game in 2017 (way more than I thought I would have) especially in the Mario Kart 8 rolling style online mode with a co-op buddy.
---
Album of the Year – Scum Fuck Flower Boy – Tyler the Creator
TV Show of the Year – Twin Peaks: The Return
Movie of the Year – Logan
Become a Patron!